Neu: Seán Street, The Sound inside the Silence. Travels in the Sonic Imagination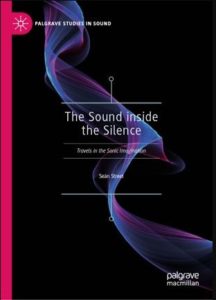 Presents a unique analysis of the human relationship to sound, where it serves as a bridge between the world and our senses.
Shows how we 'read' the world through sound, and that everything – from the printed word to landscapes and specific places, be they urban, rural or maritime – are texts that evoke a response within us. 
Written from the standpoint of a poet and practising broadcaster with a particular interest and reputation in the making of impressionistic radio documentary features, particularly for the BBC. 
In this poetic exploration of the auditory imagination, the third in his series on sonic aesthetics, Seán Street peoples silence with sound, travelling through time and space to the distant past, the infinite future and the shadow lands of the inner psyche. Our mind is a canvas on which the colours of the sound world leave permanent impressions. It is the root of all listening.
Seán Street is a writer, poet and broadcaster on the subject of radio history and aesthetics. The previous two books in this trilogy are Sound Poetics and Sound at the Edge of Perception, both published by Palgrave Macmillan. He is emeritus professor at Bournemouth University, UK.
---