Neu | Tuning in to the neo-avant-garde
Arteel, Inge/Bernaerts, Lars/Bluijs, Siebe/Verhulst, Pim (Hrsg.) (2021): Tuning in to the neo-avant-garde: Experimental radio plays in the postwar period, Manchester: Manchester University Press.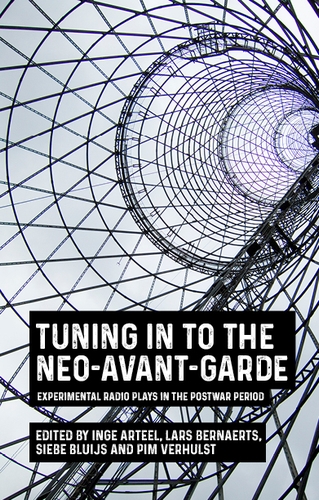 ISBN: 978-1-5261-5571-9
Pages: 272
Price: £80.00
Published Date: July 2021
---
Bringing together an international and diverse group of scholars, Tuning in to the neo-avant-garde offers the first in-depth study of the radio medium's significance as a site of artistic experimentation for the literary neo-avant-garde in the postwar period. Covering radio works from the 1950s until the 2010s, the collection charts how artists across the UK, Europe and North America continued as well as reacted to the legacies of the historical avant-garde and modernism, operating within different national broadcasting contexts, by placing radio in an intermedial dialogue with prose, poetry, theatre, music and film. In doing so, the volume explores a wide variety of acoustic genres – radio play, feature, electroacoustic music, radiophonic poem, radio opera – to show that the medium deserves to occupy a more central place than it currently does in studies of literature, (inter)media(lity) and the (neo-)avant-garde.
Contents
Part I: The poetics of the radiophonic neo-avant-garde

1 Transnational, untranslatable: Apollinaire in Freddy de Vree's multilingual radiophonic composition A Pollen in the Air – Lars Bernaerts

2 Radiophonic art and electroacoustic music: an aesthetic controversy during the establishment of the BBC Radiophonic Workshop and the radiophonic poem Private Dreams and Public Nightmares – Tatiana Eichenberger

3 A forefront in the aftermath? Recorded sound and the state of audio play on post-'golden age' US network radio – Harry Heuser

4 Croaks and calls: posthuman sound ecologies in the neo-avant-garde – Jesper Olsson

5 Textual and audiophonic collage in Dutch and Flemish radio plays – Siebe Bluijs

6 'Ja, ja, so schön klingt das Schreckliche': an audionarratological analysis of Andreas Ammer and FM Einheit's Lost & Found: Das Paradies­ – Jarmila Mildorf


Part II: The acoustic neo-avant-garde between theatre, music and poetry

7 Poetry on the Austrian radio: sound, voice and intermediality – Daniel Gilfillan

8 Gerhard Rühm's radiophonic poetry – Roland Innerhofer

9 A theatre of choric voices: Jandl and Mayröcker's radio play Spaltungen – Inge Arteel

10 Language, sound and textuality: Caryl Churchill's Identical Twins as neo-avant-garde (radio) drama – Pim Verhulst

11 Studio audience: Glenn Gould's contrapuntal radio – Adam J. Frank


Index